Design
Underline your vision with distinctive aesthetics. Let's work together to create designs that inspire and express your brand in a unique way.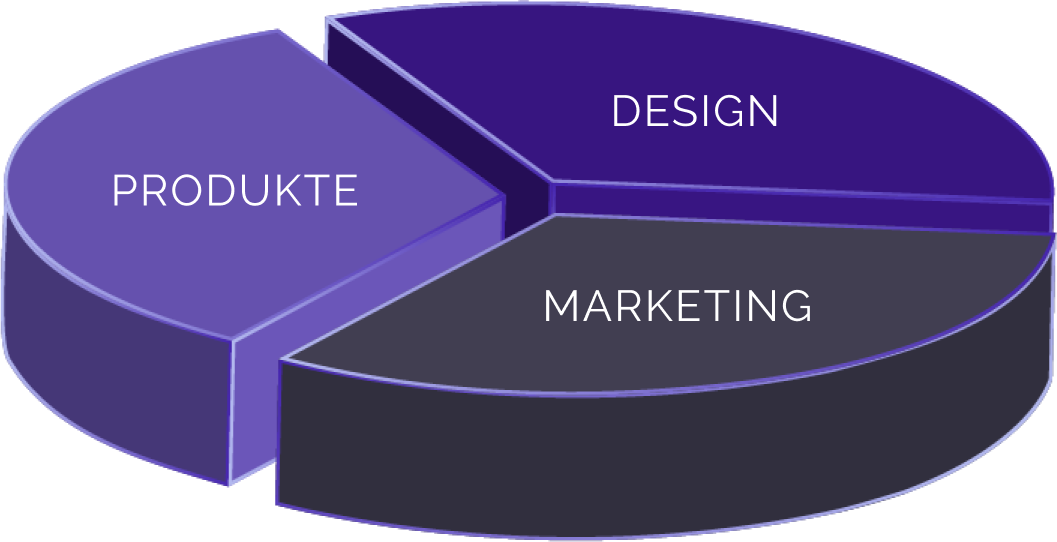 Corporate Identity
From design to brand
Design is a powerful tool for adding value to your marketing efforts. It communicates corporate identity and reinforces your message beyond just aesthetics. A deliberate design attracts attention, generates positive associations and creates trust. It is an indispensable part of successful marketing strategies and contributes significantly to the success of a company.
Our expertise
Services in detail
UX-/UI-Design and Corporate Design strengthen the external image of your company. An audience-centric design provides intuitive user experience and authentic brand identity to increase customer loyalty and improve your market position.
UX/UI design
Our agency specializes in UX design, creating digital experiences that are intuitive and user-friendly. Every detail is designed with the goal of improving user engagement and achieving your business goals. We turn your vision into a seamless user experience your customers will love.
Corporate Design
Your brand deserves a distinctive appearance. With our expert knowledge of corporate design, we ensure that your company is presented in a consistent and appealing manner both online and offline. From logos to business stationery, we create a visual image that perfectly reflects your corporate identity.
Branding
Branding is more than just a logo – it's how customers feel when they think of your company. Our team will help you build a strong, memorable brand that communicates your values and vision. Together, we create branding that not only stands out, but is remembered.
Visual Design
In a visually driven world, good design is essential. Our visual design experts put your company in the best light with creative and thoughtful designs. Whether it's websites, apps or print media, we transform your message into stunning visual experiences.
Image editing
Pictures are worth a thousand words, and with our image processing we make sure that every picture is perfect. Whether it's retouching, color correction or creative image compositions, our team will transform your photos into professional and stunning images that tell your story. In doing so, we rely on AI tools where necessary to achieve the best result for you.
Your advantages with STRAIGHTVISIONS
The key is to understand your specific business and user goals and put them at the center of the design process. In this way, we create solutions that go beyond pure aesthetics and offer real added value for you and your customers.
Expect clear communication and a quick response time. Our team works in an agile manner to ensure efficient procedures and to be able to react to changes at any time.
Our results are measurable
Through targeted UX design optimizations, you can measurably improve the performance of your sales platform. This increases usability, conversion rate and improves user experience.
Behind the scenes
Procedure
1.
Kick-Off
We present various CI and UX solutions to further flesh out your vision. This step is critical to determine the exact direction of the corporate design and ensure that it best reflects the company's identity.
2.
Implementation
In the implementation phase, your vision is worked out in concrete terms and integrated into all company materials. We work closely with you to ensure that optimal results are achieved.
3.
Finalization
In the finalization phase, all design elements are reviewed, final adjustments are made, and the final versions are released for production. After final approval, the new design language is rolled out across the desired media and platforms.
BAFA, go-digital and more
How does 50% extra budget sound?
Get a government subsidy on our services and optimize your capital investment.
Current successes
Charline-Nana Rathje
UX Designer
My goal is to transform companies into brands that are remembered. This is the only way they can remain competitive and stand out from the competition.
I strive to find solutions together with our customers without imposing a solution on them. Only in this way can we achieve our goal of success together.
What exactly is UX design and why is it important for my website?
UX design stands for "user experience design" and refers to the entire process of designing a product that is user-friendly, efficient and enjoyable to use. For websites, this means that visitors can effortlessly navigate the site, quickly find the information they are looking for, and experience positive emotions while using it. A good user experience leads to higher user retention and can increase sales.
How is corporate design different from branding?
While corporate design defines the visual appearance of a company, such as logos, color palettes or typography, branding involves the entire process of building a brand with a specific personality, values and emotions. Corporate design is therefore a part of the overall branding.
How long does a typical branding process take?
The duration of the branding process can vary depending on the project scope and individual requirements. Comprehensive branding can take several weeks to months to complete. This includes research, strategy development, design drafts and implementation.
Do I really need professional visual design for my online presence?
In today's digital world, where visuals are instrumental in making first impressions, professional visual design can make the difference between a forgettable and a memorable online presence. It helps to make your brand stand out, build trust, and target audience effectively.