We've been using WPML for years – and the longer we use it, the less we're satisfied with the alternatives. Some advantages are quickly recognized – others only become clear when you work with translations on a regular basis. WPML is extensive – and offers countless features you don't yet know you'll need. This article is intended to give you a preview and inspiration about the possibilities. You can also learn how your website can be automatically translated.
WPML offers numerous possibilities.
WPML offers unbeatable benefits and gets out everything possible in multilingualism – many wizards and automations provide great structures and processes to reliably translate a website in numerous languages. At the start, many options can certainly be skipped. But if you want to take full advantage of multilingualism, then in addition to your content, such as post pages, also think of the following components of your website:
WordPress Core & Backend
Navigation menus
Theme, Plugins
In addition, WPML offers the possibility to machine translate posts and pages – more about that later.
String Translation
Translate everything
With the translation of strings in WPML, you can translate pretty much every aspect of your website. Some plugins and themes are already pre-translated – either by the author or the free translation community of WordPress.
Often, however, you will notice that you still have to translate some strings new or different to fit your website. With WPML's String Translation you can usually translate all strings of your plugins and theme – just like the WordPress Core – the default texts for the WordPress system itself can be found under the text domain "default".
Special case: Changing original texts
You will realize that the original strings – mostly in English – cannot be changed by you.
WPML justifies this with the fact that it is not intended for the modification and maintenance of source texts, but for translations. As a workaround, WPML recommends setting up the source language as the target language.
Navigation Menus
Translation and synchronization
Show required content types.
Some content types are hidden by default. You can use the Screen Options to display them. The options are accessible via the "Customize view" button in the upper right corner.
This is important so that you can correctly link to archive pages, for example – see the next point.
Be sure to include as few "custom links" in the navigation menu as possible!
Instead, use the option to insert references, i.e. pages, posts, categories, etc. – The advantage is that WPML will then always use the translated variant of the content in the respective language.
Synchronize navigation menu
With WPML, you can now conveniently synchronize any menu between languages.
Themes & Plugins
Strings, Strings, Strings
The string translation is also provided by WPML once again via a second entry page – here you can see all string domains organized by themes and plugins and get an overview where the translations are not yet complete.
Translation Management
Manage translations
WPML offers various wizards to facilitate translation management.
Translation Dashboard
The Translation Dashboard gives you an overview of which content has already been translated.
Translation Roles
Assign rights to individual users for translation tasks, for example to allow them only to translate into certain languages.
Translation Services
Have your website translated into any language by professional translators. You have the choice of numerous international agencies, which you can commission from WPML for the translation of individual texts.
Translation Jobs
You can create translation tasks from all types of content, which can then be implemented by the translators.
Advanced Translation Editor
Separate translations from layouting
One of the biggest time savers when translating is being able to focus purely on this task.
Technically, the translation of a contribution takes place in such a way that a duplicate is created and the texts are exchanged with the translations. We know of no other solution that makes this possible as elegantly as WPML. To do this, activate the Advanced Translation Editor in the WPML settings – this feature is too compatible with Gutenberg Editor.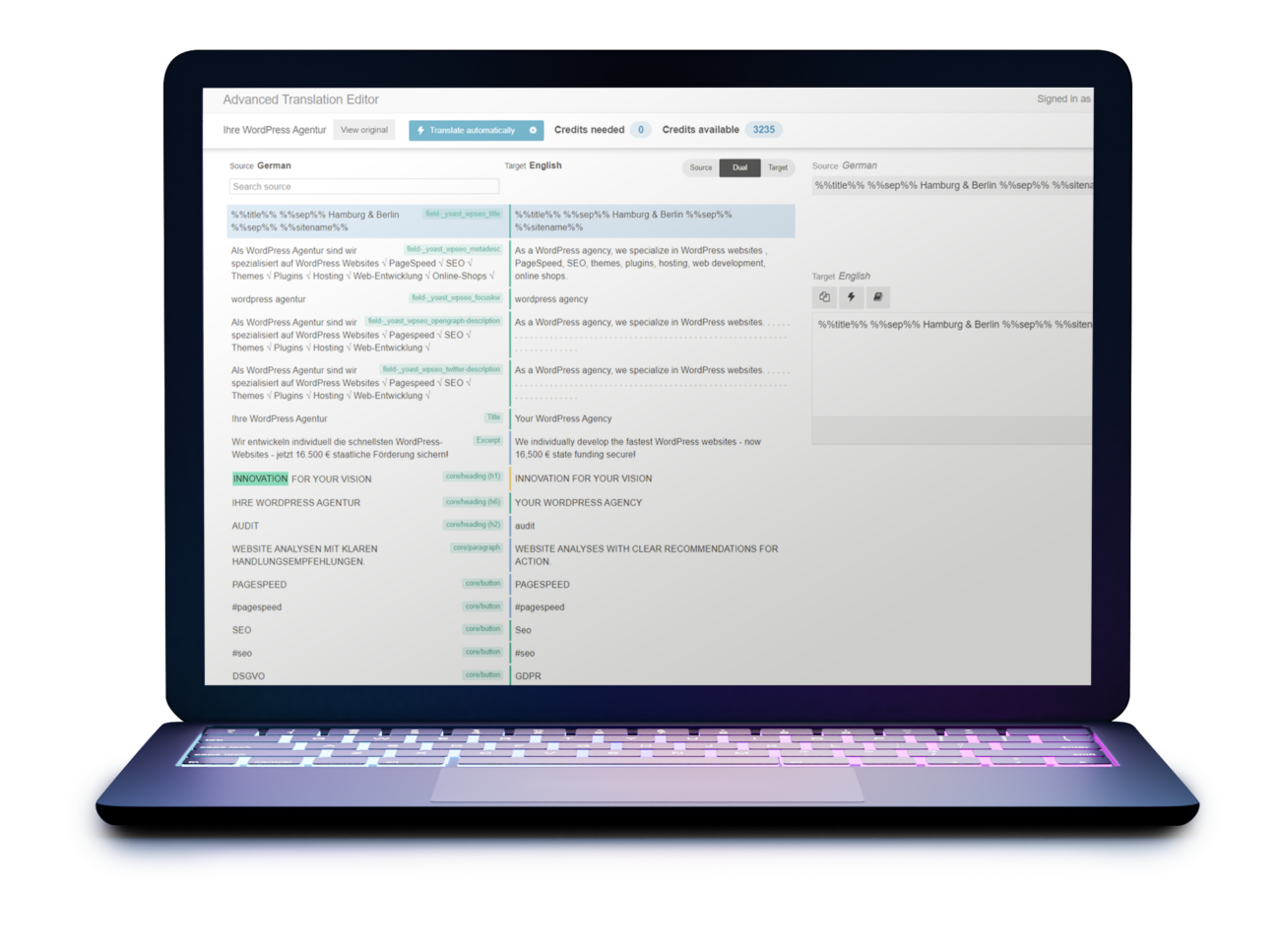 When you edit a translation, you will see a comparison of the original language and the translation. You can now translate the page sentence by sentence.
The highlight: If you should change the original page later – no matter whether by content or by a layout adjustment – it is sufficient to save the article once again in the Advanced Translation Editor and the current layout and the changed contents are transferred to the translation. – the editor will show you which new sentences you still need to translate and will keep the translations of the unchanged sentences – you can change them here at any time if necessary.
machine translation
Artificial intelligence translates surprisingly well
Syntax, context, style: you get the best translations from a human professional – but artificial intelligence is catching up and machine translations are getting better. Just give it a try, because for many websites the free monthly quota of WPML is sufficient.
You have the choice between the translation services of Microsoft, Google and Deepl.
Machine translation integrates seamlessly with Advanced Translation Editor – the content is translated automatically and you have the opportunity to correct the sentences afterwards. The results of machine translation are usually surprisingly good and, above all, save a lot of time.
result
WPML offers numerous other functions, finds broad support with other plugins and maps almost every scenario confidently
WooCommerce shops in particular benefit from the extensive possibilities of WPML.
The many possibilities are realized by countless configuration options and WPML provides interfaces for further programming.
For you as a website owner, this means that you definitely have to expect some learning curve with WPML – in return, you will be gifted with an all-in-one solution.
WPML increases the loading time of the website a bit, especially in the backend – this will probably change when multilingualism is part of WordPress Core. Until then, caching plugins help to achieve top speeds in the frontend again.
In the backend, the speed can also be increased by some tweaks.
WPML is a multi-language system solution for WordPress and accordingly time should be invested to achieve an optimal configuration.
Article series
WordPress multilingualism
This series of articles gives an overview of the current possibilities, advantages and disadvantages as well as an outlook on the future.